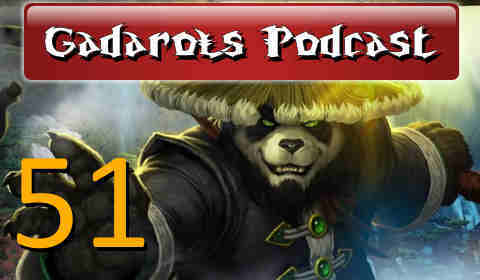 Die 51. Ausgabe unseres Podcastes hatte – wenn auch kurzfristig – eine Überraschung für euch parat: Wir sendeten LIVE, und ihr konntet während der Sendung mit uns sprechen. Hat euch das gefallen? Wollt ihr nächstes Mal dabei sein? Dann schaut in unseren Sendeplan, folgt uns auf Twitter oder Facebook und natürlich unserem YouTube Channel. Wir würden uns freuen, wenn ihr bei Podcast 52 auch LIVE dabei seid 🙂 Noch ein Hinweis: Die "nur Audio" – Version gibt es auch weiterhin auf iTunes, Podcast.de und anderen Portalen!
Heute reden Debo, Moe und Gadarol über all die Dinge, die in den letzten Wochen seit dem Podcast 50 in der Welt der MMOs und sonstigen Spiele passiert sind, sowie was in Kürze auf uns zukommt. Hier alle weiteren Details:
Die Themen:
– DC Universe Online Konsole vs. PC
– Guild Wars 2
– World of Warcraft Mists of Pandaria
– EVE Online
Schwerpunkt: World of Warcraft: Mists of Pandaria
– Alle Eindrücke aus der Levelphase
– Die Quests
– Die Instanzen (heroisch und mit Achievements)
– Die Berufe
– Das Pet Battle System
– Das eigene Feld bei den Ackerbauern
Mails und Feedback
– Warum kommen keine Podcasts? Ist daran YouTube schuld?
Vielen Dank für Euer Feedback, Eure Kommentare und Eure Bewertungen hier und auf iTunes 🙂
Auf dem Titelbild: Pandas? Die spinnen doch, die von Blizzard! Stimmt das? Nicht wirklich…
In dieser Episode haben mitgewirkt: (BETA)